ATTENTION
this is an old web site of Roman Catholic Parish Kutná Hora - Sedlec. The new web you can find at www.sedlec.info. In case you still see this site even you type new link, clear the cache files of your web browser please.
Treasury Room
The visiting of the Treasury Room in the Cathedral of Assumption of Our Lady and Saint John the Baptist let the visitors see the jewels, which are connected with the history of Cistercian Abbey in Sedlec - the original of Monstrance of Sedlec, a facsimile of Abbey Foundation Charter and a replica of gothic painting of Our Lady of Sorrows by Master of the Třeboň Alterpiece.
Monstrance of Sedlec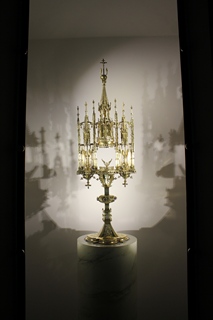 The dominant of the Cathedral Treasury Room is an original of gothic Monstrance of Sedlec from 14th century. It is a liturgical item used for storage of an Altar-bread in the secret of Eucharist.
The Monstrance of Sedlec is one of the only ten extant gothic monstrances and by the recent research it is the oldest gothic monstrance in the World!
This monstrance comes out from the architecture by Petr Parléř - a court Architect of the Emperor Carl IV. and also the builder of Cathedral of Saint Vitus in Prague or the Church of Santa Barbara in Kutná Hora.
Monstrance of Sedlec was probably not made exactly for the Sedlec Abbey, but it was given to Abbey in instance of Brotherhood of Christ´s body in Kutná Hora.
This jewel is made from gilded enchased silver. The high of monstrance is 97 centimeters, the weight is 4,7 kilos.
Foundation Charter of Sedlec Abbey - a facsimile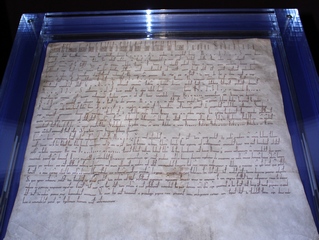 A Foundation Charter of Sedlec Abbey was listed between 1142 - 1148, when first of Cistercian monks came to Sedlec. The Charter chronicles the events of foundation of Sedlec Abbey and the other historic affairs - which makes it very valuable in history point of view. The Original of the Faundation Charter is archivated in National Museum of Prague.
Painting of Our Lady of Sorrows - a replica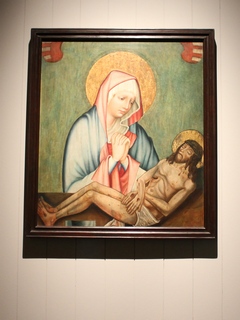 A close replica of painting of Our Lady of Sorrows, originally situated on the High Altar in Církvice by Kutná Hora. Master of the Třeboň Alterpiece was an eminent painter of gothic panel painting who promoted the Czech beautiful gothic composition.