Tourist Bus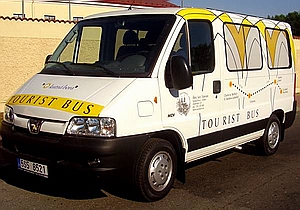 Tourists and visitors of Kutná Hora city can take advantage of minibus service - the "TOURIST BUS" parks just by the Cemetery Church of All Saints with the Ossuary and connects Sedlec with the centre of Kutná Hora and the church of St. Barbara. More information about the service is available in the Infocentre or ask the guide crew in the Ossuary.
(Note: Sedlec as a part of Kutná Hora is cca 2,5 kilometres far away from the centre of the city, the main train station is located in Sedlec)
TOURIST BUS rides of the need and potentials when minimum three seats are placed.
Ticket price: 35,- CZK / person