"TOUR 77"


77 MINUTES FULL OF ADVENTURE

The special organ candlelighted night in SEDLEC
Would you like to experience something special? We offer you All the best of Sedlec!
...
THE NEW TOUR'S CONTENT
The programme begins in the higher chapel of a charnel house (the Cemetery Church of All Saints with the Ossuary), where you can find out more about the history and the current situation of Sedlec, which is the essence of all really important historical occurences transpired in Kutna Hora. After the introduction the tour continues with the costumed guide (monk or nun) deep down to the candlelighted Ossuary (the lower chapel), where you can experience the sound of silence and go in thoughts beyond the limits of life.
You spend there approximately 35 minutes and after that the tour continues to the Cathedral of the Assumption of Our Lady and Saint John the Baptist. The oldest cathedral in the central Europe will deepen your enjoyment with the organ music, candle light and maybe with an interesting musical surprise too.
You can also visit the Treasuary room with the original Sedlec Ostensory from the end of 14th century which is included in the tour prize.
MORE PEOPLE YOU ENJOY THE TOUR WITH
BETTER PRICE TO PAY!
per the group of 1-10: 10.000,- CZK
per the group of 11-20: 11.100,- CZK
per the group of 21-30: 12.200,- CZK
per the group of 31-40: 13.300,- CZK
per the group of 41-50: 14.400,- CZK
per the group of 51-60: 15.500,- CZK
You can pay by cash, card or € personally in our Infocentre during the daily opening hours. If you choose different payment please contact us for further information.
The highest possible capacity of the tour is 60 people.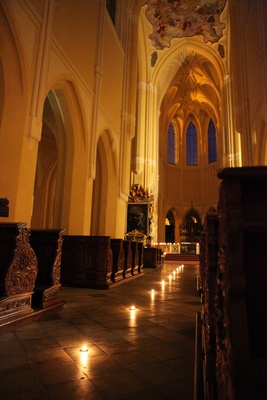 THE TEAM AND COOPERATORS
The team consists of local residents, who can provide comprehensive knowledge of the history, current affairs and excellent performance. You can expect the musical part of the programme is prepared by skilled local musicians with whom the parish has a long-termed relationship and they are able to provide you the best they can.
Organ: Viktor Darebný, Michal Hanuš, Milan Slabý
Singer: Mgr. Zdeněk Licek, Mgr. Velímský Filip Ph.D., Vendula Krůlová
Trumpet: Pavel Štorek
THE TERMS OF CONDITIONS
After the payment (by cash or card) in our Infocentre during the daily timetable on the adress Zámecká street 279, Kutná Hora – Sedlec will be provided the guided programme. If you would like to pay by invoice, please contact us for more information – This e-mail address is being protected from spambots. You need JavaScript enabled to view it. . The parish will provide the guided programme only for people who booked the programme and paid it. That means they are the participants of the tour with an appropriate behaviour and are also dressed as it should be in the church:
Appropriate clothes: clean clothes which covers main parts of the body especially arms, knees, back and the bottom.
Appropriate behaviour: it is not possible to visit our sights when you are drunk or on the drugs. We expect the adhrence to etiquette.
In case all participants will violate the tour's conditions, the guide has the right not to realise the programme and the 100% payment will be charged. In this case we do not refund the money you have paid for.
The customer agrees with those conditions and promises that the participants will be instructed in including the interruption, cancellation or sanctions according to the conditions above.
For further details/ reservations please contact us MINIMUM 2 WEEKS AHEAD
Infocentre Kutna Hora – Sedlec; mail: This e-mail address is being protected from spambots. You need JavaScript enabled to view it. , tel.: +420 326 551 049