ATTENTION
this is an old web site of Roman Catholic Parish Kutná Hora - Sedlec. The new web you can find at www.sedlec.info. In case you still see this site even you type new link, clear the cache files of your web browser please.
Cinema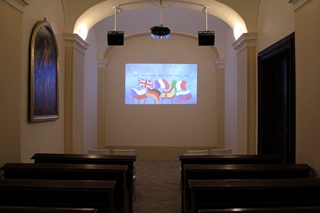 There is a small cinema in the Cathedral of Assumption of Our Lady and Saint John the Baptist, where the visitors can watch the 9 minutes movie about history of Cathedral and Kutná Hora city. The movie "Splendissima Basilica" is short animated introduction to history of Sedlec and it is very unique to watch it in an actually probably first and the only one cathedral cinema in the world :)
Splendissima Basilica movie was made in project 3STA, which was donated in the Support programme for UNESCO monuments by Ministry of Culture of Czech Republic. The movie was awarded on Film festival 36. EKOFILM and it is possible to watch it in Czech or English audio with German, Russian, French, Italian or Spanish subtitles.