The Cathedral of the Assumption of Our Lady and Saint John the Baptist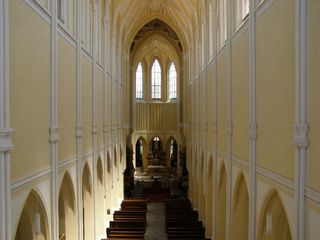 The oldest Cistercian cathedral in Bohemia is dated back to the middle of the 12th century, the time of the largest expansion of the Cistercian Order. The first community of monks came from the Waldsassen monastery in Bavaria. In contrast to the then tradition of linking the establishment of the monastery with the colonization of the adjacent territory, the Sedlec monastery was established in a heavily populated area. The founder's settlement was established in the center with several smaller churches around whose brickwork is preserved as part of the baroque convent to the present day. Ownership of the monastery was made up of a tenement of villages and farmsteads from the immediate and wider surroundings. With the exception of the names of the abbots, no records of the first one hundred and fifty years of the existence of the Sedlec community remain. Sometime around then the first convent was built, whose foundations were discovered under the paving of today's cathedral building. The second half of the 14th century bore a token of economic stagnation and increasing debt, however Sedlec continued to maintain its reputation as most prominent Cistercian building in the country. The Hussite war was fateful for the monastery. In 1421 the cathedral was seized and burned to the ground, and the monk community was dispersed. Life at the monastery was restored to some extent in 1454. Sedlec took a deep breath after the thirty years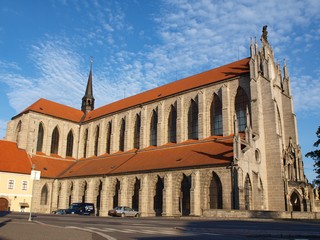 war when it slowly managed to consolidate economic conditions, stabilize the number of monks and strengthen religious discipline. The abbots began extensive restoration activity at the derelict monastery based on their financial possibilities, until 1685 when Jindřich Snopek was elected as the abbot (1685–1709). Jindřich Snopek was born in 1651 and he joined the Cistercian Order at the age of twenty. At thirty five he was chosen as the Abbot of Sedlec. Abbot Snopek is linked in particular to the monastery's extensive restoration work on the Assumption of the Virgin Mary, which brought it to its current state. Poor trade and extensive building and the related artistic activity, which encompassed the construction of the convent, undermined the economic self-sufficiency of the monastery and Sedlec was then administered from Osek and Zlatá Koruna. In the framework of the Josephine reforms the monastery was abandoned in 1783, the cathedral was deconsecrated and closed, and the mobiliary art was nearly completely all auctioned off. In 1806 the cathedral assumed the function of a parish church for Sedlec and the nearby Malín, which it fulfills to the present day. In 1812 a tobacco factory was established in the monastery building. The villages and farmsteads that formed the dominion of the Sedlec monastery were purchased in 1819 by the Prince of Schwarzenberg. Since 1995 the Sedlec cathedral has been listed as a UNESCO world heritage site. After extensive reconstruction, which was financed in part from in house resources and in part by the program preservation of the architectonic heritage of the Ministry of Culture of the Czech Republic, it was reopened to the public in the spring of 2009.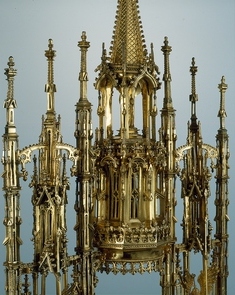 There is a very unique place in the cathedral - the treasury room keeps an original of jewel from gothic age - the Monstrance of Sedlec. It is one of the only ten extant gothic monstrances and by the recent research it is the oldest gothic monstrance in the World.
This monstrance comes out from the architecture by Petr Parléř - a court Architect of the Emperor Carl IV. and also the builder of Cathedral of Saint Vitus in Prague or the Church of Santa Barbara in Kutná Hora.
A text to borrow in the monument is available to download (*.pdf) here
Visitor regulations (*.pdf)